Split PST
»
How to Split PST File
Stepwise Guidelines - How Split Magic Works?
Open Split Magic software (For that, go to the Start menu » Programs » Split Magic » Split Magic). Startup screen appears, Click the "Browse" button to select Outlook PST file:




Select PST file which you want to split from Open Window and click on Open button:




Choose a splitting option (Date, Size or Year) and Outlook Format (Which version of Outlook is installed on your PC) and click on Next button:




Click on Browse button for selecting a location where you want to save the divided PST files (split from the large PST file that you selected):




Provide a Location from Browse For Folder window (Also can create any folder using Make New Folder button) and click on OK button:




Select sub Split Option i.e. Exact Size (As you selected Split by Size option) and click on Next button:




Review all filed informations and click the Start button to start splitting process:




Check out whole splitting process (PST Name, Folder Name, Folder Count, Items Count). Progress bar shows splitting status:




Completion of Split process, a confirmation window comes up with Split Done Successfully message. Click on OK:




Click the Compare PST button to get the splitting details (Form of CSV file):




Navigate the location (Selected saving location) directly or by clicking Destination Folder link and get the all divided PST files.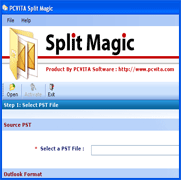 Split PST Awards!