Split PST
»
PST Splitter MS Outlook
Leverage an Apt PST Splitter MS Outlook Solution !
Split Magic software to split MS Outlook PST file into smaller files. You can choose a particular date as a segregating point to split PST file in two parts, OR you can opt for a size of your choice to split MS Outlook PST file into multiple parts of equal size as per selection, OR you can select the range of years to split MS Outlook PST file into several units, one unit corresponding to each year. Our software provide best widespread solution to split PST file and become easier performance with PST splitter MS Outlook. Software independently splits all the items of Outlook such as (contacts, emails, calendars, journals, tasks, notes) to smaller PST files, without hampering the original PST file.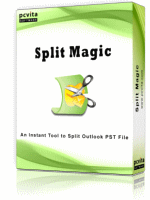 Starting at $49
Every Penny Saved is a Penny Earned:
Our organization provide free demo version for user comfort, to know software efficiency better. But the demo version has some limitation, like it can split only 50 PST files at a single time. By spending as little money as $49, you can save your precious e-mail data, save your precious time, and save a lot of money by purchasing the licensed version of PST Splitter MS OutlookTool, and with this comprehensive full version you can split MS Outlook PST file into numerous pieces multiple times, efficiently, and relentlessly.
Split Magic – Purely Magical
Using Split Magic is a smart way of managing your large PST files to safeguard you from any unwanted and abrupt damage to your e-mail database. You need not to be highly skilled, nor must you be having great knowledge, and you can easily split by PST splitter MS Outlook PST file into various chunks as per your choice without having to trouble your brain or having to spend long hours.
PST Splitter software is a single solution to split large Microsoft Outlook PST files with few steps. Now earlier version of MS Outlook (97/2000/2002/XP) do not support the PST file larger than the limit of 2 GB. If your PST file size reaches that limit, MS Outlook may get worn-out and then you need to select powerful and efficient PST splitter software.