Split PST
»
Split Archive PST
Split Archive PST File - Best Way to Deal with Huge Archive File
Constantly & regularly archiving old email data in MS Outlook mostly results in increased archive PST file size. Gradually, when you keep on archiving the data, archive PST file goes on increasing more and more in size.
At some time, it grows such immensely that it starts affecting the speed of Outlook application, thereby, creating trouble for you in performing the emailing operations. Your work can hinder greatly if you don't act quickly to reduce archive PST file size. You can split archive PST file into smaller parts, which will result in the formation of several smaller PST files, wherein the individual sizes all smaller parts is less. Now you must be thinking - how to split Outlook PST file? Get Split Magic software to find a viable answer.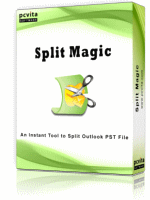 Starting at $49
Download Now - Product Available in FREE Demo Version: This is a very advantageous facility provided to you; to check the product before you go on to purchase it.
Get acquainted with the product, know its features, evaluate its performance & see the process to decide the worthiness of our tool. Demo version of Split Magic lets you split only 50 items of each PST file.
How to Split Archive PST?
You can split Outlook archive file using a third-party split Outlook PST tool. We have a useful tool for your need. It is Split Magic software, a tool to split Outlook PST file. You can easily use it to divide archive PST file of large size into smaller parts. Break archive PST into multiple parts to reduce the size of each individual part; it will increase your Outlook speed. Such tool to split archive PST file will work as a speed booster for slow Outlook.
Useful Product Features:
It is possible to cut archive PST file
It is possible to split archive PST by date
It is possible to split archive PST by year
It is possible to split archive PST by size
It is possible to split Outlook distribution list
It is possible to split all PST items like emails, contacts, calendars, journal, tasks, etc
It is possible to retain Metadata (to, from, cc, bcc, etc) accurately
It is possible to cut PST folder also like contacts, calendars, journals, and all emails folders including Inbox, Outbox, Deleted Items, Drafts etc
Product's Full Version - Split Any no of Archive PST Files: To split all Outlook PST items files from each mailbox folder, buy Split Magic software in its full working mode. You can use our software to split unlimited Outlook PST files into unlimited small PST files. Split all your large-sized archive PST files into smaller parts using our tool in its full mode.